Welcome to the Autumn edition of the Tarot Blog Hop. The theme this time is "Foodies Guide to the Tarot" and the brief is to take your readers on a gastronomy tour of the Tarot. How could I resist? Before I attempt to tickle you tastebuds, however, I must provide you with the navigation links to my neighbours and the master list:
PREVIOUS BLOG | MASTER LIST | NEXT BLOG
There, now that's done let's get on with the business of Foodie-ing 😀
For this post, I decided to focus on just one card, the Ace of Cups. Not the most obvious food-related card, compared to say, almost all of the Pentacles, which suggest fruit or food in various forms. The Cups do have an association with water and by extension beverages of various sorts, but I'm not going to pursue that in this post.
Here is my take on the Ace of Cups: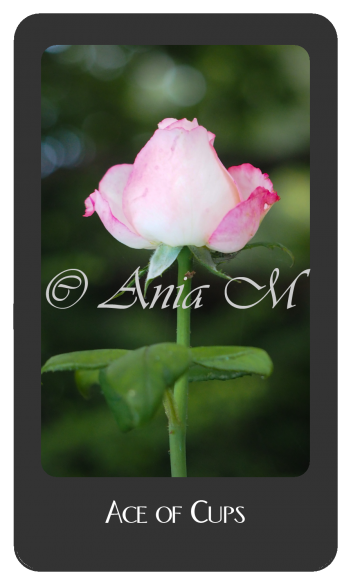 I happened to go into the garden one evening last week and spotted this beautiful Nostalgia rose in amongst the dark green of the surrounding foliage. It is pleasingly cup-shaped, but I also chose it because I had a notion at one time to use "Roses", after the Swiss-German card naming convention, rather than "Cups", for this suit. I decided to stick with Cups as being more recognisable to the wider Tarot community, but roses have remained very much in mind when working on this suit. Did you know that in the language of flowers, different colours of rose have different meanings? For example, a white rose represents purity and innocence, and pale pink roses also represent innocence and sweetness. Since this rose is white with pink edges, it is seems quite apt for the Ace of Cups. What do you think?
But what about the foodie part? How do roses relate?
Unless you have no taste buds at all, everyone loves some kind of foodstuff. Food elicits all kinds of emotion either by its flavours, its smell or by association with some event. We are all familiar with the flower and know about the use of roses in perfume and rosewater in beauty products, but they aren't the first ingredient food that springs to mind. We don't tend to use them in the kitchen in this country very much, but Middle Eastern, Indian and Chinese cooking use rosewater and rose petals in a variety of dishes, particularly, although not exclusively, in cakes and sweets. Here are a selection of recipes using rosewater from the BBC:
http://www.bbc.co.uk/food/rosewater
I like the look of the Ottoman Lamb and the Apricot Almond Cake, or how about this Baklava recipe. I absolutely love baklava, though I've never made it, so I'll definitely try this one at some point. There is also a recipe for strawberry and rose petal jam which I think would be a absolutely delightful for a special cream tea (as long as you don't overdo the rose, which is quite a strong flavour).
One thing that is missing from this selection, and I have made before, is Turkish Delight – a delight indeed and precisely what I had in mind when choosing this card for this Foodie Tarot Blog Hop theme. It isn't to everyone's taste, although if rose is not a flavour you enjoy, you can always use lemon or orange. I couldn't find the recipe I used before, so I tracked this one down for you: Turkish Delight Recipe. It doesn't use gelatine, unlike many commercial offerings, thus is suitable for vegetarians. I had planned to make some for this blog post, but alas didn't have the time.
Finally, if Turkish Delight is not to your taste, how about this lovely, simple recipe for Rose Petal Shortbread.
Do try these at home and let me know how you get on.
If you really don't like cooking, you can always treat yourself to some ready made rose shortbread from WaitROSE 😀
Please don't forget to leave a comment before you continue your journey through the other Blog Hop posts using the navigation links below:
PREVIOUS BLOG | MASTER LIST | NEXT BLOG
You can see all the cards in this deck so far on the main page here.